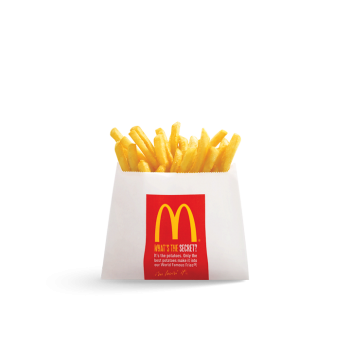 French Fries (Large)
512.00 Cal.
Our World Famous Fries® are made with premium Russet Burbank potatoes. These epic fries are crispy and golden on the outside and fluffy on the inside. In Singapore, we cook our fries in 100% Canola blend oil with no trans-fat. Our cholesterol-free fries do not contain any wheat, gluten nor beef extract.
Nutrition Facts
| | |
| --- | --- |
| Energy | 512.00 kcal |
| Protein | 6.00 g |
| Total Fat | 27.00 g |
| Saturated Fat | 8.00 g |
| Cholesterol | 1.00 mg |
| Carbohydrates | 61.00 g |
| Dietary Fibres | 6.00 g |
| Sodium | 314.00 mg |
This nutrition information is derived from testing conducted in accredited laboratories, published resources and/or information provided by McDonald's suppliers. The nutrition information is based on standard product formulations, serving sizes and average values for ingredients from McDonald's suppliers and is rounded in accordance with applicable regulations/guidelines. Variations in serving sizes, preparation techniques, product testing and sources of supply, including regional and seasonal variations, may affect the nutrition values for each menu item. In addition, product formulations do change periodically. You should expect some variation in the nutrient content of products purchased in our restaurants. This information is current as of June 2015.
Allergen Information
Egg

Fish

Milk

Peanuts

Soya Beans

Tree Nuts

Wheat